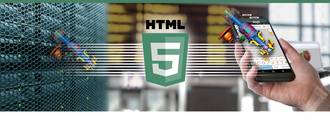 3DViewStation
WebViewer Version
Multi-CAD Viewer for browsers and mobile use
The 3DViewStation WebViewer version is the browser-based counterpart to our desktop version, with identical, rich functionality and performance. It does not require any installation on the end device such as Notebooks, PCs, Tablet-PCs and Smartphones. It only requires an HTML5-capable browser - which is the case for all current browsers. This makes the 3DViewStation WebViewer ideal for users who do not want to have a local desktop installation, but also for mobile users, since all possible end devices with Windows, Android, iOS or Linux operating systems are supported. Even though the 3DViewStation WebViewer version can be used without integration, it is usually integrated into leading systems such as PLM, product configurators, after sales & service solutions and even on machines in the human-machine interface (HMI). Since the 3DViewStation WebViewer does not transfer any 3D geometries to the end device, a very secure operation with sensitive CAD data is possible (which can also be combined with our intellectual property protection functions). The 3DViewStation WebViewer Server can be operated in the cloud as well as on own servers (on-premises).
We will be happy to advise you
Sales Germany
+49 2408 9385 517
Sales USA
+1 916 723 1441
The 3DViewStation WebViewer version at a glance
WebViewer Version general
Excellent performance even at low bandwidths
No geometries on the end device
Supports many data formats, 3D and 2D
Many interactive functions, like Desktop counterpart
Many security functions for effective know-how / intellectual property (IP) protection
Requires no client installation: zero installation, zero administration
Ideal for browser users
Ideal for occasional users
Ideal for mobile users / travelers who only need access to inventory data
Ideal for communication with customers and suppliers
Supported processes
All PLM processes
Project Reviews
Sales
Work preparation
Manufacturing
Engineering
Change management
Purchasing
Marketing
Product configuration
Technical documentation
After Sales / Service
Quality assurance
Collaboration
Long-term archiving
Possible applications
Desktop PC, Notebook, Tablet, Smartphone, Machine (HMI)
runs integrated with leading systems such as PLM, ERP, MES parts catalogs
also runs alone, without integration
Online and offline application possibilities
concurrent session licensing
9 reasons why you should use the Kisters 3DViewStation WebViewer version as your visualization tool
The Kisters 3DViewStation WebViewer version does not require any installation on the end device.
You do not need to send files to your partners anymore. The 3D CAD Web Viewer gives online access to the files - without any download.
You never take sensitive data with you. Just access them online. Like you are used to from the Windows file explorer, only on the server.
Or you integrate the Kisters 3DViewStation Web Viewer into your leading system, e.g. PLM system, product configurator, after sales application or man-machine interface.
The 3D Web Viewer guarantees secure access to your CAD data, as no geometry is downloaded or streamed to the end device.
The Web Viewer is extremely fast, even with low bandwidths and extremely large assemblies.
Although the Kisters 3DViewStation WebViewer version has a rich functionality, it is still easy to use
The 3D Web Viewer supports many data formats. Not only 3D CAD, but also 2D CAD, Office, images...
The online viewer runs on PCs with browsers and also mobile devices like tablets and smartphones, not only as 3D CAD Web Viewer


Navigate, select
Search & Filter
Rendering modes, set color, set transparency
Move, rotate, scale
Best fit: auto align 2 solids
Auxiliary constructions
Properties
Redline / Markup
Publish
color coding
and many more...
Examples of load times

200 MB native Catia: 1 sec
Car body as JT: 1 sec
50.000 parts turbine
as JT: 13 seconds,
as 3DVS: 1 sec
Complete truck engine as 3DVS: 1 sec
Truck with 80,000 parts, fully shattered loaded, in the cloud: 10 sec
20.000 parts machine
as native SolidEdge: 35 seconds,
as 3DVS: 1 sec
125.000 parts aircraft assembly line as 3DVS: 1 sec
Section of an aircraft
as Catia CGR: 1.5 minutes,
as 3DVS: 5 sec
Aircraft with 700,000 parts as 3DVS: 4 sec
400.000 parts plant as 3DVS: 7 sec
Passenger ship with 10 million parts, as 3DVS: 15 sec
The following project examples are from our 3DViewStation WebViewer version customers
Mobile CAD data access, spare parts, product configuration
A train manufacturer uses the 3DViewStation WebViewer version to place ad hoc assemblies on an internal file server area, so that they can be easily searched and loaded from the outside - like with the Windows file explorer. In addition, the WebViewer is used integrated with the PLM system and the spare parts catalog.
An engine manufacturer uses the 3DViewStation Desktop version and our automation server (KAS) to prepare the CAD data, on the one hand for the product configurator and on the other hand for the spare parts application. Both applications are web-based for the end customers, who use the 3DViewStation WebViewer.
A truck manufacturer uses 3DViewStation WebViewer as graphics engine for their product configuration solution, which runs in the Cloud. At any time the fully detailed CAD model is shown, all modifications are done in real time. 3D exported files are IP protected, 2D drawings are automatically generated.
A manufacturer of self driving cars uses 3DViewStation WebViewer integrated with the PLM system, replacing the standard visualization. As their CAD data are very complex, they use KAS for batch translation.
Online collaboration, human-machine-interface
A mold and die maker uses the 3DViewStation WebViewer version together with VisShare to collaborate online with its customers, mostly automotive OEMs, on projects.

A special purpose machine builder is using the 3DViewStation WebViewer version to extend the human-machine interface with a 3D CAD graphic and to provide detailed information in graphical context on their smartphones and tablets to the service staff as early as possible.
True MultiCAD DMU with 3D Web Viewer
WebViewer on a Smartphone
Compare, section & dimensioning with 3D Web Viewer
Color coding with WebViewer
Fly through with WebViewer
PMI in Catia and JT, with WebViewer
Neighborhood search with WebViewer
Technical documentation authoring and ballooning, with 3D online Viewer
WebViewer on a Smartphone
3DViewStation WebViewer 2D
Kisters 3DViewStation for Browsers and Mobile
3DViewStation WebViewer BIM
WebViewer on a Smartphone
WebViewer integration with Aras
Visualization for Online Collaboration
WebViewer in LifeCycleAssetMgmt (SLM, MRO) solution