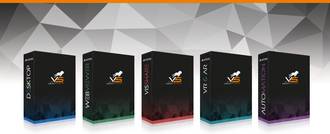 3DViewStation is a very fast CAD viewer and can be operated alone or integrated into third-party systems.
3DViewStation product family
Powerful 3D/2D visualization for your business:
for desktops, browsers, mobile devices and VR
Over 3,000 companies can't be wrong. The members of the Kisters 3DViewStation product family provide fast, easy to use, cost efficient and MultiCAD capable visualization and Digital Mockup solutions to all users in the manufacturing industry. This means company-wide access to your CAD data; that includes mobile employees and external business partners. As a classic CAD Viewer the 3DViewStation reads many native 3D CAD data formats, such as Catia, NX, Creo, Solidworks, neutral formats, such as JT and STEP, 2D drawings, up to office and image formats. Over 180 interactive functions are easily and intuitively accessible via an office-like user interface. The 3DViewStation is very fast and can be operated alone or integrated into third-party systems.
We will be happy to advise you
Sales Germany
+49 2408 9385 517
Sales USA
+1 916 723 1441
KAS
Automation tool for various tasks
Converter from native CAD to 3DVS
Single part and assembly conversion
Generation of preview images
Alienate components or assemblies in batch
Enriching geometries with metadata
Extract product structures


Navigate, select
Search & Filter
Rendering modes, set color, set transparency
Move, rotate, scale
Best fit: auto align 2 solids
Auxiliary constructions
Properties
Redline / Markup
Publish
color coding
and many more...
Examples of load times

200 MB native Catia: 1 sec
Car body as JT: 1 sec
50.000 parts turbine
as JT: 13 seconds,
as 3DVS: 1 sec
Complete truck engine as 3DVS: 1 sec
Truck with 80,000 parts, fully shattered loaded, in the cloud: 10 sec
20.000 parts machine
as native SolidEdge: 35 seconds,
as 3DVS: 1 sec
125.000 parts aircraft assembly line as 3DVS: 1 sec
Section of an aircraft
as Catia CGR: 1.5 minutes,
as 3DVS: 5 sec
Aircraft with 700,000 parts as 3DVS: 4 sec
400.000 parts plant as 3DVS: 7 sec
Passenger ship with 10 million parts, as 3DVS: 15 sec
Ultimately, every user has to do his job. In the manufacturing industry, he or she is confronted with the fact that CAD models are becoming increasingly complex. Therefore short load times are a basic requirement. But, fast loading alone is not enough, because the right functionalities are needed to complete the respective tasks - and these vary considerably from department to department. 3DViewStation supports this with over 180 functions. Offering so many functionalities in a simple and intuitive way is a challenge that is also mastered by 3DViewStation.
Ultimately, it is the user who decides whether he wants to do his job on the desktop, on the road, using a tablet or smartphone or in virtual space. If the company uses a data management system, such as a PLM system,integration capabilities are required as well. That's why all Kisters 3DViewStation products ship incl. a powerful programming interface (API) that allows anyone to add 3DViewStation visualization power to any application - with just a few lines of programming code.
For web applications, the problem of intellectual property protection in particular must be solved.
Only a visualization application, that has all these features, is the enterprise solution of choice.
8 reasons why you should use the Kisters 3DViewStation as a company-wide visualization:
Kisters 3DViewStation is extremely fast
Kisters 3DViewStation works just as well with single parts as with extremely large assemblies
Kisters 3DViewStation has a rich set of functionality, ranging from viewing, measurements, comparisms to Redline / Markup and Digital Mockup (DMU)
Kisters 3DViewStation supports drawing less processes via PMIs (Annotated 3D Models, GT&T, FT&A, 3D Master, MBD, MBE)
Kisters 3DViewStation is very easy to use
Kisters 3DViewStation supports many data formats, not only 3D CAD but also 2D drawings and Office documents
Kisters 3DViewStation offers solutions for desktops, browsers, mobile and VR
Kisters 3DViewStation can be integrated into any leading system, such as PLM systems
Licensing
Purchase or rent
First, you can purchase our licenses and have them maintained via an annual fee, which is mandatory when using the import interfaces for native CAD formats.
Alternatively, licenses can be rented (annual subscription). These annual fees include software maintenance.
Desktop products: Fixed seat or floating licensing
3DViewStation desktop licenses can be purchased as fixed seats or floating licenses. The 3DViewStation VR edition and the batch tool KAS are only available as fixed licenses.
A fixed license is bound to one machine. This machine may be used by different users. In practice, these are often power users who need the software frequently or users who are on the road a lot or also fixed workstations, e.g. the stations of a production line.
Floating licenses can be used on changing machines. A license manager limits the maximum number of simultaneous users. If the user ends his session, the license is released immediately, i.e. without delay.
Floating licenses are used when there are many occasional users, but only a smaller subset of concurrent users. Many database systems license by the "named user" concept. Here, every user registered in the system is simply counted. This is not the case with us.
We recommend to provide all power users with fixed licenses and the remaining users with floating licenses. A ratio of 1:5 is a good starting value: 1 floating license per 5 named users. In practice, this ratio can also be 1:3 or 1:10. However, only real operation can show this.
Web-based products: Licensing "per concurrent session" or "per server".
3DViewStation WebViewer and VisShare licenses can be purchased "per concurrent session" or "per server".
The most common form of licensing is "per concurrent session". Here only the number of concurrent sessions of one or more WebViewer servers is counted, similar to the floating model for desktop products. So it does not matter which user is accessing from which client.
This licensing model scales very well, as we do not limit the number of servers that can be used. For availability reasons, at least 2 servers should always be kept available for a large number of users. In case of extremely complex 3D CAD data (millions of parts and more) only a few users per server can be served, so more servers have to be provided. This can be realized especially well in the public cloud.
Besides that, there is the "per server" licensing model, where a server is licensed according to the number of "threads" the CPU provides. Today, 1 CPU core usually has 2 threads.
But this licensing model is rarely used, because it is quite static due to the fixed server and binding to the threads. And since we do not limit the number of users, it can overload the server if this is not prevented by the integration. Therefore, this licensing model is mostly used for visualization of single parts or smaller models and for relatively few users with little interaction.