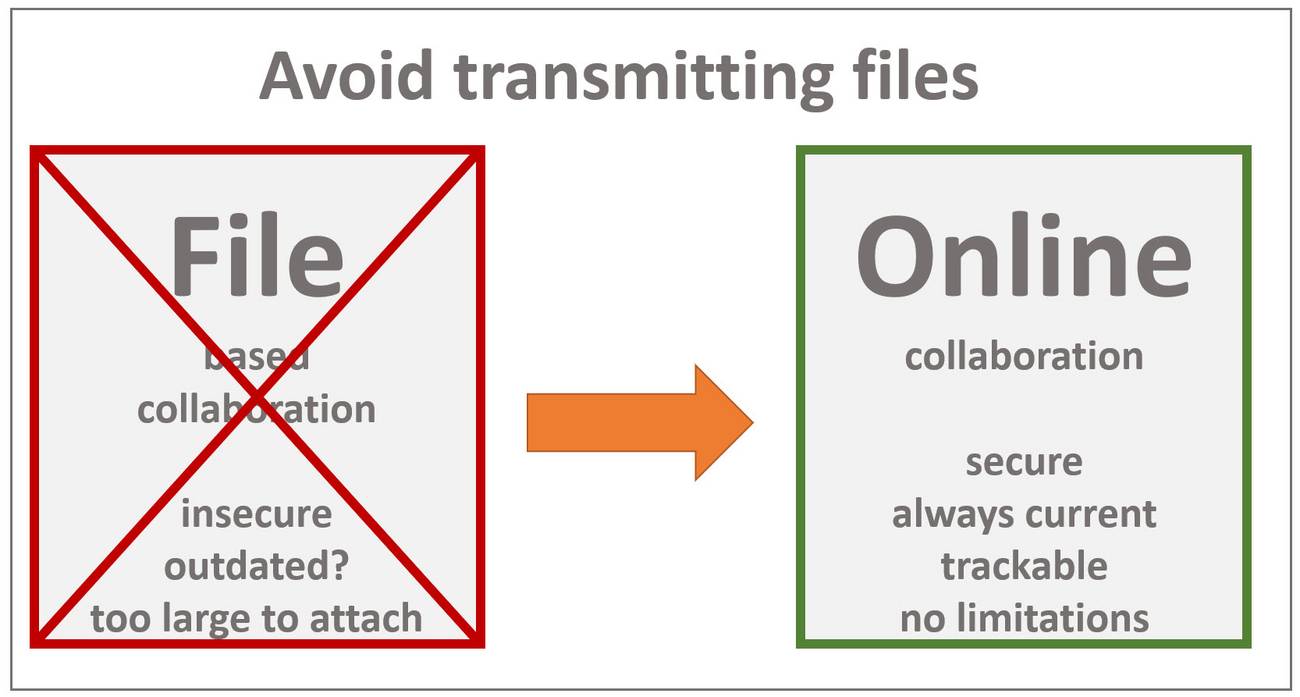 3D CAD Online collaboration has many advantages...
... over sending 3D CAD files
In manufacturing industry it is common standard to exchange 3D CAD files. But it is always neccessary?
Of course there are use cases where native CAD files like Catia or Inventor or neutral 3D CAD data like STEP are required i.e. to design a mold or tool or to produce a certain part. For other, probably most use cases, we do not need the exact geometry (BREP), as lightweight models are fully sufficient. So JT, 3D-PDF or eDrawing files get exchanged, knowing that there are free viewers like JT2Go or Acrobat Reader available. But these viewers have in common that they require a local installation. And they might have limitations too, like limited and different functionalities, slow performance, mobile access and download issues, complicated and time consuming up- and download of large assemblies, IP protection riscs...
That's why we feel, that in many cases it makes more sense and it is sufficient to just give access to the 3D CAD data, to be able to view, review and work with them - online, without any download.
Find below a few more reasons for going online rather than exchanging 3D CAD files:
File based collaboration vs online collaboration using 3DViewStation WebViewer or VisShare
| | file based | 3DViewStation (online) |
| --- | --- | --- |
| no client installation required | x | √ |
| no files on (mobile) device | x | √ |
| no geometries on (mobile) device | x | √ |
| no need to attach large files | x | √ |
| avoids workarounds for too large attachments | x | √ |
| avoids download of any file, no waiting times | x | √ |
| works with virtually unlimited file size | x | √ |
| avoids typical file size limitation of free viewers | x | √ |
| displays large models in seconds | x | √ |
| mobile devices can display virtually unlimited size of files | x | √ |
| works well with large files while using mobile data connections | x | √ |
| scale visualization solution on server only, not on client | x | √ |
| Variants & configurations: real time change | x | √ |
| Digital Twin: instantly reflect changes, i.e. as-maintained | x | √ |
| access to associated documents dynamically in real time | x | √ |
| access to current, dynamic meta data in real time | x | √ |
| user activity can be tracked | x | √ |
| full control over file access | x | √ |
| replace outdated files without resending | x | √ |
| collaboration: markups instantly available on server | x | √ |
| single viewer for all file formats | x | √ |
| single UI, always same usage for all file formats | x | √ |
| same functionality accross all 3D and all 2D file formats | x | √ |
| secure: geometries cannot get captured | x | √ |