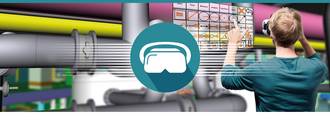 3DViewStation
VR Edition
Virtual Reality (VR) solution to inspect and analyze large models (CAD to VR)
Fast, affordable VR with HMD instead of expensive Powerwall and Cave.
In combination with a HMD (Head Mounted Device) 3DViewStation VR - Edition is the inexpensive replacement for your Cave or Powerwall. 3DViewStation VR - Edition lets you virtually immerse yourself in your 3D models with the help of VR glasses. We support SteamVR or Windows Mixed Reality compatible devices, such as the HTC Vive, Lenovo Explorer or HP Mixed Reality glasses. By using our KISTERS renderer, we provide VR in seconds, even with complex models. This includes vehicles, machines, airplanes, ships or buildings.
Rich functionalities as usual for 3D CAD viewers
Models can be displayed in VR in real size or scaled to fit the available space. They can move themselves within the objects or teleport ("beam") to a new position. Objects that have been selected can be hidden or moved. For example, an entire vehicle can be raised so that it can be inspected from the underside. Or you can select single objects to disassemble an assembly. In addition, it is possible to create sections by defining a section plane with one of the controllers and then moving it. Almost all functions known from the desktop and WebViewer versions are also available. These include measuring functions (lengths, diameters, etc.) and even analysis functions, such as wall thickness and draft angle analysis. You can additionally prepare assemblies e.g. with the 3DViewStation desktop version and then switch from view to view in the VR edition.
We would be happy to advise you
Sales Germany
+49 2408 9385 517
Sales USA
+1 916 723 1441
3DViewStation VR Edition at a glance
3DViewStation VR Edition general
No lead times - CAD data can be loaded directly without preparation
High performance
World class: VR session with millions of components, loaded in seconds
Visual navigation
Photorealistic rendering with materials
PMIs (MBD, MBE)
Views
Standard & advanced analyses
almost every function available in the desktop version can be used
Integration capability - start VR session directly from the leading application thanks to APIs
Voice control possible
Direct data exchange with desktop and WebViewer versions
Possible applications
Replacement for Powerwall or Cave
Virtual inspection
Virtual safeguards, e.g. checking installation and removal processes
Use in sales and marketing: virtual presentation of complex products such as vehicles, machines, plants, airplanes, ships, buildings, which can hardly or not at all be transported due to their size, variety or immobility, in the sales process or at trade fairs
Use in all PLM processes
Use in product configurators: Change options in real time
Use in quality assurance: Render QA results on 3D geometries
You're probably familiar with problems other VR solutions can present:
Large CAD Models with 100.000+ parts?
You want to inspect an assembly in a VR session. But now you have to convert the data in a complex way. It takes time. However, since your VR application can only process a maximum of 20,000 parts, or 150,000 if you're lucky, you'll need to simplify the data, either removing parts or rendering them more roughly. And every time after the CAD data has changed a little bit, the whole effort for you comes back.
Get a VR CAD Viewer free?
There are many apps out in the market which promise to be a free VR CAD viewer. But sorry. They are all very limited and not therfor nothing to be used in a serious business. As always youu need to write down your requirements and compare, if and how they are fulfilled.
True PLM integration possible?
You would like to load an assembly from a PLM system into a VR session, check it, add annotations if necessary (how do you do that without a keyboard?) and then save the results back into the PLM system, in order to have them processed further via the usual workflows. Can you do this with your current VR application?
The solution for you is: 3DViewStation VR-Edition
Firstly, you can load CAD data into a VR session without any lead time. For example, a 125,000 parts assembly loads in 1 second, a ship with 10 million parts in 15 seconds - without any simplification or reduction. On the other hand, the 3DViewStation VR-Edition has a programming interface that allows integration e.g. into PLM systems. Voice Control can be used to translate voice commands into 3DViewStation API commands. This makes it very easy to add annotations, switch between views and take snapshots to store them in the PLM system. The views can be stored separately from the geometry, so that they can be reused after a change in geometry. Especially efficient is the possible use of the 3DViewStation Desktop or WebViewer version in the now downstream review processes.
7 reasons why you should use the Kisters 3DViewStation VR-Edition
The 3DViewStation VR-Edition does not require any lead time to load the CAD data
The 3DViewStation VR-Edition is extremely fast
The 3DViewStation VR-Edition also works with extremely large assemblies, such as ships with 10 million components
The 3DViewStation VR-Edition offers a rich set of functionality that users recognize from the desktop and WebViewer versions
The 3DViewStation VR Edition comes with an API that allows quick and easy integration into e.g. PLM systems or configurators
The 3DViewStation VR edition allows mixed PLM workflows that also use the desktop and WebViewer versions
The 3DViewStation VR-Edition can be controlled by voice, e.g. to add text annotations
The following are project examples from our 3DViewStation VR-Edition customers:
One of our automotive OEMs is using the 3DViewStation VR edition for virtual inspection of their manufacturing facilities, which consists of a factory floor with assembly lines, robots and vehicles.

A plant manufacturer of particle accelerators uses the 3DViewStation VR edition for the virtual inspection of partial components of the plant, which consists of 200 million parts in total. CAD near analysis functions are used within the VR session.

A manufacturer of passenger ships uses the 3DViewStation VR-Edition for virtual inspection of blocks and zones, but also of the entire ship, which consists of about 10 million components.

A manufacturer of offshore plants uses the 3DViewStation VR-Edition integrated into his PLM system. During the inspection, the feature recognition of 3DViewStation is used for pipelines and comments are attached to objects via speech as text annotations. Snapshots stored in the PLM system form the basis for further workflows.