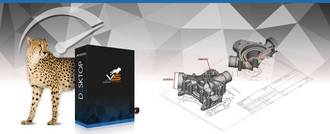 3DViewStation
Desktop Viewer
Fast, universal 3D CAD Desktop viewer for use on desktop PCs, notebooks and Windows tablets.
The 3DViewStation Desktop version is our most popular product. The Desktop viewer will be installed on your local PC and can very quickly visualize over 60 data formats from the areas of 3D CAD, 2D CAD, images and Office. In addition to pure viewing, many functionalities are available. These are navigation, selection, search & filter, measuring, dimensioning, cutting, comparison. But also advanced Digital Mockup, redline/markup, exploding, volume calculation, preparation for meetings, intellectual property protection, content generation for technical documentation and much more. With our Desktop viewer you can add CAD data from various CAD systems to a model - simply via drag & drop, without preparation. We call that real Multi-CAD DMU (Digital Mockup). The 3DViewStation Desktop version can work on its own (as a stand-alone), or: thanks to APIs it can also integrate into any leading system.
We would be happy to advise you
Sales Germany
+49 2408 9385 517
Sales USA
+1 916 723 1441
The 3DViewStation Desktop version at a glance
Desktop viewer
The classic for local use
Reads over 60 data formats
180+ functions from simple visualization to advanced analysis and Digital Mockup
Extremely fast Desktop viewer
Simple operation
3D CAD viewer for true Multi-CAD DMU
Desktop viewer for small, medium and large manufacturing companies
The Desktop viewer is also ideal for power users and travelers who need to work with local data
Extension with plugins possible
Supported processes
Project Reviews
Sales
Work preparation
Manufacturing
Engineering
Change management
Purchasing
Marketing
Technical documentation
Quality assurance
Collaboration
Possible applications
Desktop PC, Notebook, Windows Tablet
local installation
also runs on virtual machines (VMs)
runs alone (Stand Alone)
running integrated
Fixed or floating (network) licensing
6 reasons why you should use the Kisters 3DViewStation Desktop viewer as your visualization tool:
This 3D CAD viewer also runs on business notebooks with onboard graphics cards and even without graphics card
The Kisters 3DViewStation Desktop version supports many data formats
The Kisters 3DViewStation Desktop viewer is extremely fast
The Desktop version of the Kisters 3DViewStation has a rich functionality, from simple viewing to meeting or shop floor preparation, technical documentation authoring and high end Digital Mockup
The Kisters 3DViewStation Desktop viewer is still easy to use
The Kisters 3DViewStation Desktop version can be integrated into any leading system, such as a PLM system


Navigate, select
Search & Filter
Rendering modes, set color, set transparency
Move, rotate, scale
Best fit: auto align 2 solids
Auxiliary constructions
Properties
Redline / Markup
Publish
color coding
and many more...
Examples of load times

200 MB native Catia: 1 sec
Car body as JT: 1 sec
50.000 parts turbine
as JT: 13 seconds,
as 3DVS: 1 sec
Complete truck engine as 3DVS: 1 sec
Truck with 80,000 parts, fully shattered loaded, in the cloud: 10 sec
20.000 parts machine
as native SolidEdge: 35 seconds,
as 3DVS: 1 sec
125.000 parts aircraft assembly line as 3DVS: 1 sec
Section of an aircraft
as Catia CGR: 1.5 minutes,
as 3DVS: 5 sec
Aircraft with 700,000 parts as 3DVS: 4 sec
400.000 parts plant as 3DVS: 7 sec
Passenger ship with 10 million parts, as 3DVS: 15 sec
The following project examples are from our 3DViewStation Desktop viewer customers
Desktop viewer at suppliers in manufacturing industry
After a thorough selection process, a manufacturer of aerospace components replaced several existing viewers with the 3DViewStation Desktop version.
An automotive supplier for glass and elevating roofs carried out a requirements analysis and, after internet research, put three viewer manufacturers on the shortlist. Two of the manufacturers carried out training sessions lasting for days with a lot of personnel. The customer finally opted for the Kisters 3DViewStation Desktop viewer: After only two hours of product demonstration, the key users were able to do their job with their own data.
An automotive supplier for lighting systems has carried out a requirements analysis with five viewer manufacturers in the final selection. The Kisters 3DViewStation Desktop version clearly led in all categories. An important selection criterion was not met at the beginning - but was developed by the Kisters team at short notice and delivered on time.
A machinery supplier uses 3DViewStation Desktop PMI capabilities in order to support their MDB initiative. They replaced a combined 3D-PDF and JT process by standardizing on 3DViewStation Desktop viewer.
Desktop viewer at OEMs in automotive, aerospace, machinery and plant
A helicopter manufacturer uses the 3DViewStation Desktop viewer with his PLM system. Complex assemblies with up to 2-3 million parts are loaded extremely quickly and then filtered according to e.g. ECAD, standard parts or colors. Using proximity or distance search, parts are isolated within the search area or, for example, along a pipe system and transferred to a CAD system for processing using a plug-in. In addition they use the technical documentation authoring functions of 3DViewStation Desktop version to create and maintain content for their work instructions.
A well-known sports car manufacturer uses the 3DViewStation Desktop viewer to load and analyze complete vehicles with more than 100,000 parts - or just single components - via the PLM system. This also works purely file-based, i.e. completely PLM-independent.
A truck vendor uses 3DViewStation intellectual property (IP) protection capabilities in order to remove invisible parts and to alienate sensitive parts - preventing production of illegally copied parts.
and more Desktop viewer at:
A plant manufacturer uses 3DViewStation Desktop viewer to load complete plants from within a PLM system. The typical interactive functionalities are used to analyze the layouts and 3DViewStation APIs are used to add and modify components
A train manufacturer leverages 3DViewStation Desktop version technical documentation features in order to prepare data for their spare parts catalog.
A large machine manufacturer replaced Acrobat 3D and JT2Go by 3DViewStation Desktop viewer in order to re-use and author 3D annotated models, replacing the former 2D based workflow.
Desktop viewer at tool makers, mold & die makers, casting companies
Our model, mold & die makers use the 3DViewStation Desktop version to create quotes. All incoming data in native or neutral CAD formats will be loaded into the Desktop viewer first. Then the data will be analyzed, physical properties such as volumes and surfaces calculated if necessary, and some dimensions determined. They determine the complexity of the tool to be used with the aid of the draft angle analysis. And the powerful split or division function supports you in the mold design. The work is organized and saved in views. Our model and mold makers then receive the order with the attached geometry. They now use the 3D comparison function to determine whether geometric changes have occurred. Afterwards the order can be accepted and the 3DViewStation Desktop version can be used in production, on PCs or even on touch displays and tablets.
Many foundries use the 3DViewStation Desktop viewer to inspect the data, which is available in various data formats. They use our advanced analysis functions - also called Digital MockUp, DMU functions. Because draft angle analysis helps detecting undercuts at an early stage.