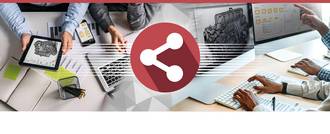 Kisters VisShare
Kisters VisShare

- Online collaboration and 3D CAD data sharing.

Just create a project, assign people, add CAD data via drag & drop - 3D collaboration can be that easy. Now all you need to do is share a link to a single 3D CAD model or 2D drawing, or give individuals access to the entire project.

VisShare is a MultiCAD enabled collaboration web environment designed for manufacturing companies. It is ideal to use as an in-house solution, but also for mixed project teams consisting of internal and external people, and for employees who need to collaborate across sites. Get your partners, customers and suppliers involved, too. Via a web portal that includes everything you need to easily and securely share, visualize, analyze and manage your 3D and 2D CAD data. VisShare requires no installation on the end device. VisShare is easy to use, easy to administer, easy for everyone. The VisShare server can be run in the cloud or on your own servers (on-premises).

Talk to us now - we will be happy to advise you
We will be happy to advise you
Sales Germany
+49 2408 9385 517
Sales USA
+1 916 723 1441
VisShare at a glance
VisShare general
Simply bring data and people together for projects
User and group administration
Assign persons to a project or send temporary links
Set up a project in minutes
Integrated visualization for 3D CAD, 2D, images and office data
Provide data with Redline / Markups and save them in VisShare
Control access to data
No client installation, pure browser solution
Possible applications
Solution for in-house collaboration
Solution for project teams with internal and external persons
Suitable for small, medium and large companies
Runs on Desktop PC, Notebook, Tablet, Smartphone
Do these problems sound familiar?
A phone call from a colleague or supplier citing an ambiguity that "just" needs to be cleared up. But, you don't want to let go of the data, you want to keep control over it, which would be lost if the file were to be downloaded. Perhaps the assembly is also larger and the transfer via classic data exchange and FTP too slow and cumbersome, via cloud or e-mail would be too insecure or not possible. They could convert the native 3D CAD data into a neutral format such as JT, which might have to be done manually, could take time, and the JT files would still have to be transferred and comments would have to be laboriously communicated back. A 3D PDF may be too large for an email attachment, often too large for Adobe Acrobat or Reader to even open. And perhaps it is difficult to download it to a smartphone where it is needed due to the low bandwidth.
Or, for a project that may only last a few weeks or months, it may be a matter of having some internal colleagues work with external business partners on specific data.
The solution here is VisShare, every time.
In the first case: Simply upload a 3DVS file or native CAD data to a VisShare project and send a link to the corresponding file from there, if necessary as a temporary link - done. You don't need to register the recipient first, no file downloads will take place and the data is safe.
In the second case: Simply register users via e-mail addresses, add them to a group, create a VisShare project with access rights for the selected users, add CAD data - done. You can also track whether a user has logged into the system. Errors can be corrected immediately by overwriting any files on the server. You are always in control.
7 reasons why you should use the Kisters VisShare
Kisters VisShare allows you to set up a project with specific data for specific people in a very short time
Kisters VisShare supports many data formats
Kisters VisShare is extremely fast, even with low bandwidths and extremely large components
Kisters VisShare has a user administration with groups
Kisters VisShare guarantees secure access to your CAD data, as no geometries are downloaded or streamed to the end device.
Kisters VisShare does not require any installation on the end device
Kisters VisShare runs on PCs with browsers and also mobile devices such as tablets and smartphones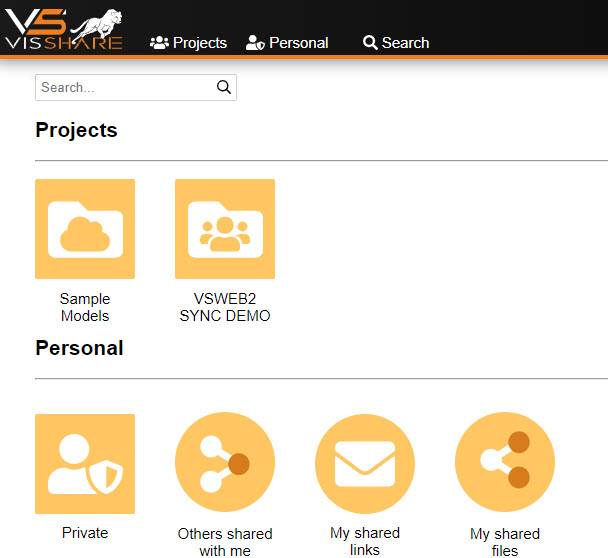 The following project examples are from our VisShare customers:
A mold and tool maker uses VisShare to collaborate online with its customers, mostly automotive OEMs, on projects. The VisShare server is installed on the premises. For each job, the CAD data in question is loaded into a VisShare project and assigned to certain internal and external persons with different access rights. The data remains on the VisShare server, but the OEM can view it, add annotations if necessary, create views and save results on the VisShare server. The mold and die maker also uses options to add users via LDAP and ActiveDirectory and to share existing project folders online from its file servers via VisShare.

A large plant engineering company needs a flexible solution to form project teams for specific data at short notice. His PLM system is ruled out for this, as it is too complicated to use. Here too, a project should be able to be created with just a few clicks and members provided with authorizations for a certain group of people. VisShare was already successfully used here during the development phase and in this case was operated in the Kisters Cloud.
Compare file-based collaboration (e.g. via 3D PDF, JT, STEP) with web-based and server-side rendering (SSR)
| | File based | Web based with SSR |
| --- | --- | --- |
| No local installation required | × | √ |
| No file on the (mobile) device | × | √ |
| No geometries on the (mobile) end device) | × | √ |
| No download, no waiting time | × | √ |
| Loads even large models in seconds | × | √ |
| Works with arbitrarily complex assemblies, no file size limitation as with free viewers | × | √ |
| Works even with large files and poor data connection | × | √ |
| Scaling takes place on the server, any client can be used | × | √ |
| Always access to current documents, current metadata | × | √ |
| User activities can be logged | × | √ |
| Full control over files, access and people | × | √ |
| Replace obsolete files without having to resend them | × | √ |
| Geometries cannot be tapped, know-how protection | × | √ |
| Redline and markup without having to send back files | × | √ |
| Works with any data format, 3D like 2D | × | √ |
| Same functionalities, independent of the data format | × | √ |