BIM and Construction
BIM viewer for construction, project management web portal or offline: the 3DViewStation software for fast visualization with many features including data protection
Over the past few decades, the BIM and construction industry has transitioned away from 2D to 3D. In the past, it was sufficient to carry around a set of 2D drawings. Today, it might be a challenge to get a local copy of all 3D models. These days, a cloud-based project management tool that gives access to all related data and geometries is preferred. In order to accomplish reviews and approvals, any level user should be able to use a powerful and integrated visualization tool rather than uploading and downloading the data. The KISTERS 3DViewStation product family provides powerful BIM and construction visualization solutions for desktop, mobile, browsers and VR.
As a basis, 3DViewStation reads all important file formats used in BIM and construction, such as: Revit, IFC, GLTF, CPIXML but also older 2D data formats such as AutoCADDWG, DXF, and even PDF or TIFF, if it must be scanned drawings. Attributes or linked metadata can also be used (this can come from separate files or a data management system). Kisters gives users the option to perform checks, approvals or comparisons with documents or 3D models. Measure, cut or perform collision investigations on desktops or mobile devices, in browsers and even in VR. The VR-Edition is additionally used to immerse yourself and experience a construction project in real size.
We would be happy to advise you
Sales Germany
+49 2408 9385 517
Sales USA
+1 916 723 1441
The Kisters 3DViewStation WebViewer version is the product of choice for modern cloud-based online project management solutions. No geometries whatsoever are transferred to the end device, which makes the solution extremely fast. In addition, it scales well and you can protect your intellectual property. The integration can be done in a very short time with just a few lines of code, using our powerful, high-level APIs. Since all our products share almost identical APIs, you can also integrate our VR and desktop version for offline use or for power users. There are integrators who control the VR edition via speech recognition instead of using the menu and can therefore attach annotations to the 3D model or store them in the leading application.
BIM viewer with support for IFC, Revit and other CAD data
Thanks to its broad support of data formats, the 3DViewStation is the ideal, universal BIM viewer. Even if we can visualize the most important data format in the field of BIM and construction with the IFC format, in practice it is important to be more broadly based. Many projects are still planned in 2D. Therefore, support for the classic 2D formats such as DWG, DXF, DWF and PDF is very important. In contrast, we rarely find Allplan and DDS-CAD. Accompanying information may be stored in Word (DOC, DOCX) or PDF, which must also be visualized without the original application. Viewers may also be available free of charge for images. However, their integration must be carried out separately. ODA also offers free software for download, originally focused on DWG. However, if there are several viewers for different formats, the operation will certainly be inconsistent and could also be difficult, and the functionalities will not be sufficient. Is there a real web variant that can be used in today's web-based portals? Here a solution that uses the 3DViewStation product family is much more efficient and easier to implement. With just one software, all 3D and 2D data are visualized either locally on the PC or in the web portal. There is only one user interface and exactly one integration for all scenarios. This leads to a low cost of ownership, low costs due to little or no training and the maintenance of only one interface.
BIM means changed way of collaboration
Because many files and large amounts of data are moved in the construction sector, and many project partners have to work together, the question of the best concept arose early on. In the past, copies of plans and documents were sent to the various parties involved as a stack of paper. Then the archives were scanned and drawn electronically. This marked the beginning of the era of DWG and later PDF, which is still important today for archiving in the PDF-A variant. In the age of 3D, the proportion of 3D model data in relation to the known 2D data is growing steadily. The advantages are too overwhelming: 3D impressions on the screen or in VR, obtain missing information yourself by measuring, cutting, etc., apply change requests directly to the model using 3D annotations, make changes in 3D immediately visible, carry out simulations for wind loads or collision investigations. And there is a lot more. Companies have therefore given thought to the changed collaboration. On the one hand, you came to an agreement with the BIM data container. On the other hand, they have developed new systems such as EPLASS, ThinkProject, BIMcollab and usBIM, all of which are cloud-based. For all these solutions, the 3DViewStation WebViewer version is the all-in-one BIM viewer with high performance and rich functions. Measuring, dimensioning, cutting and comparing are more of a standard functionality. The 3DViewStation also offers an extremely fast calculation of the minimum distance between large selections, search and filter functions by name, attribute or color. A box can be used to isolate an area in the CAD model with the linear distance, e.g. all objects that are close to a pipe assembly. And the 3DViewStation allows collision and distance calculations (Clash & Clearance) to be carried out and problematic points to be found in the CAD model.
Test the 3DViewStation free of charge and without obligation!
Don't wait any longer, speak to us today and let us explain the advantages of the 3DViewStation as a BIM viewer to you over the phone. We are also happy to meet via web meeting or at trade fairs and user conferences. You can also easily download a test version of the Desktop version or VR-Edition yourself and try out the Kisters 3DviewStation with your data at your location. If you are more interested in a BIM online viewer, you can also test the 3DViewStation WebViewer version at any time - online of course, without any installation. Simply register and view and analyze public examples or upload your own IFC, Revit, DWG, PDF or Office data. You can determine whether these files should be publicly viewable or whether you want to store them privately. In the next step, you can of course also test the web viewer locally on your infrastructure (on premise) or in the cloud.
30 years of CAD viewer experience
Whether as an enterprise viewer, offline or online - we have the right solution for you. For over 30 years we have been offering viewer solutions for the construction industry, initially viewers for industry standards and standardized formats such as TIFF, CALS, JPEG, then also for the up-and-coming Autodesk products with DWG, DXF, DWF and PDF. Then the 3D era began and so today we support important ISO standards and de facto standards with IFC and Revit. For web-based viewers, browser-based HTML5 solutions such as the 3DViewStation WebViewer version without any client installation have established themselves today - for PCs, notebooks, tablets and smartphones. Our BIM viewers have long since become an important part of more complex applications such as various project management portals.
BIM viewer Building
BIM viewer Textures
BIM viewer building AEC IFC Revit
BIM viewer selected pillars
BIM viewer AEC IFC Revit pipes
BIM viewer Building meta data
BIM viewer Textures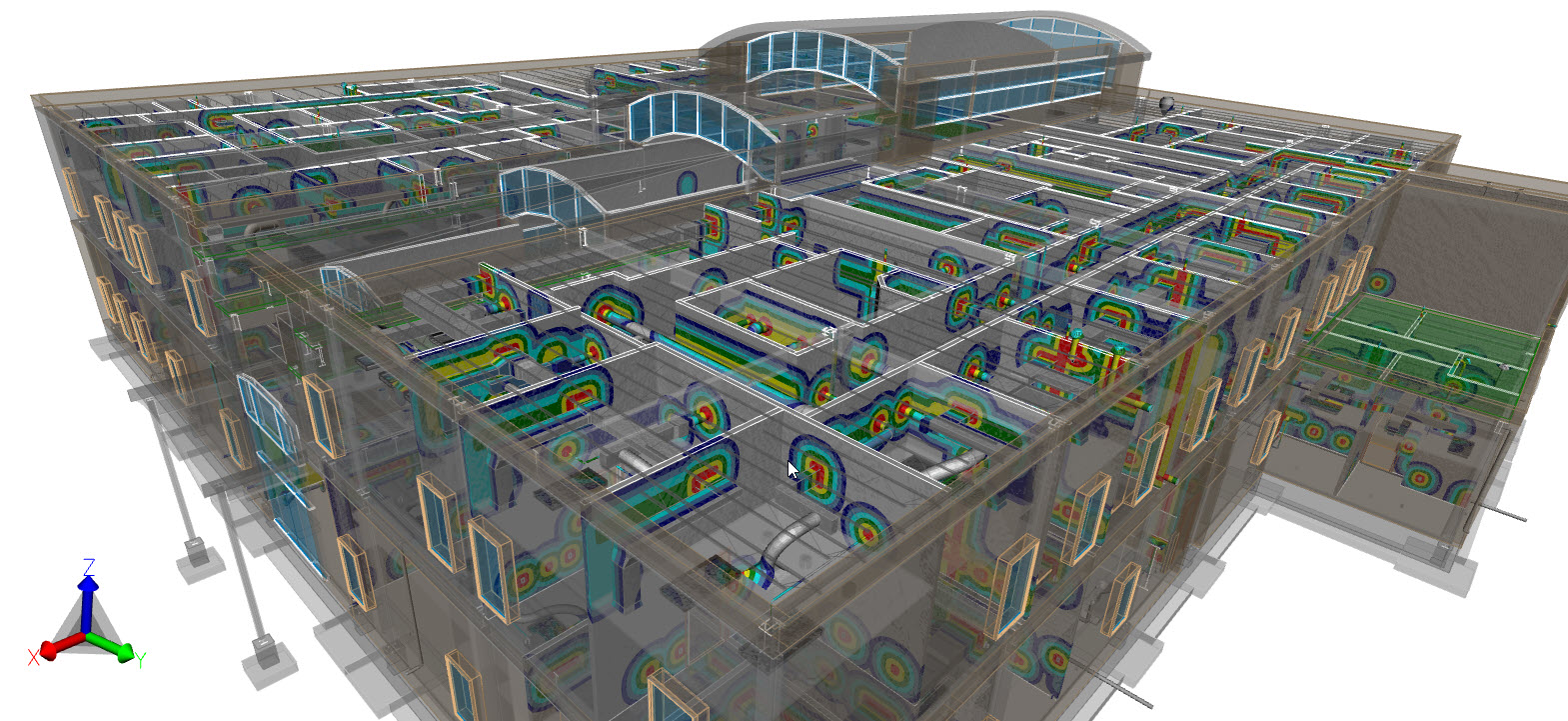 BIM viewer Building Distance
BIM viewer Building Distance Detail
BIM viewer compare drawings
BIM viewer side by side compare drawings
BIM viewer measurement 2D DXF DWG
BIM viewer 2d measurement